Bible Study Groups
Bible study groups meet almost every night of the week to study specific topics and encourage personal growth.
For everyone - Sunday evenings at the building, 6 p.m.; communion service offered
Ridge Teens (6th through 12th grades) - second and fourth Sunday evenings during the school year, 5:30 to 7:30 p.m. in individual homes. IGNITE Bible study and dinner.
Men - Monday evenings at the building, 6:30 p.m.
Men - Tuesday mornings at the building, 8 a.m., discussion, coffee and donuts
Women - Tuesday evenings at the building, 6:30 p.m.
Men - Wednesdays at various restaurants around town, 11:30 a.m. for lunch, study and discussion
Huddles and Huddles Jr. - Wednesday evenings during the school year, 6 to 8 p.m.; dinner, Bible study, fellowship and fun!
College students and young professionals - Wednesday evenings at the building, 7 p.m.
Women - Thursday mornings at the building, 10 a.m.
Men - Thursday evenings at the building, 6:30 p.m.
Community Outreach
Backpacks
Towards the end of every summer, Ridge members collect school supplies then load them in brand new backpacks for kids in the community. In 2019, we filled and distributed 150 backpacks.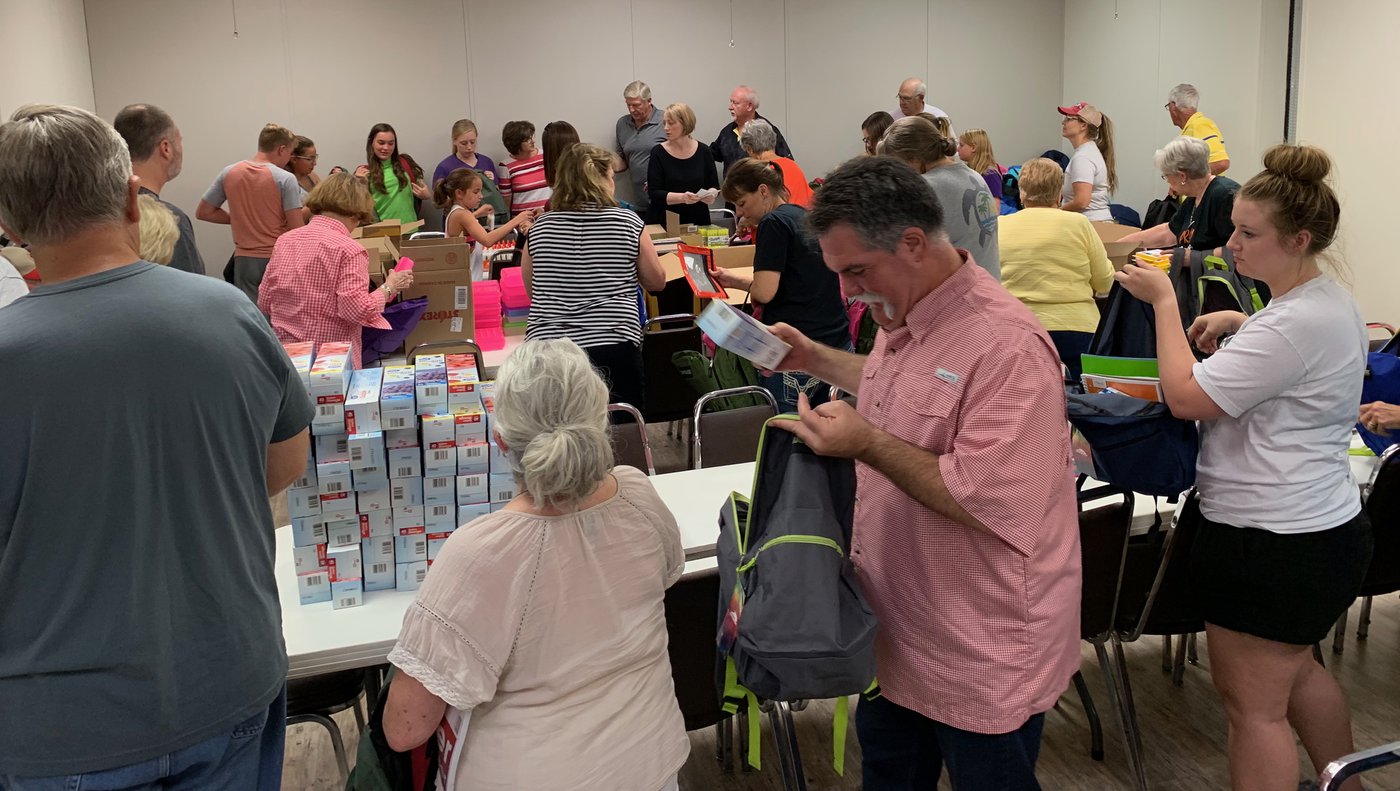 Masks
At the onset of the COVID crisis, Ridge members initiated a mask campaign, both making and delivering masks to nursing homes, frontline healthcare workers, friends and members. About 300 handmade masks were cut, sewn and delivered.
Abilene Police and Firefighters
To show Abilene's police and firefighters that the Ridge continually supports and prays for them, members delivered locally made cinnamon roles, flavored popcorn, pizza suppers and hand-written notes to stations and firehouses. We continually look for ways to make positive impressions in our community that can serve as a catalyst for conversations about God.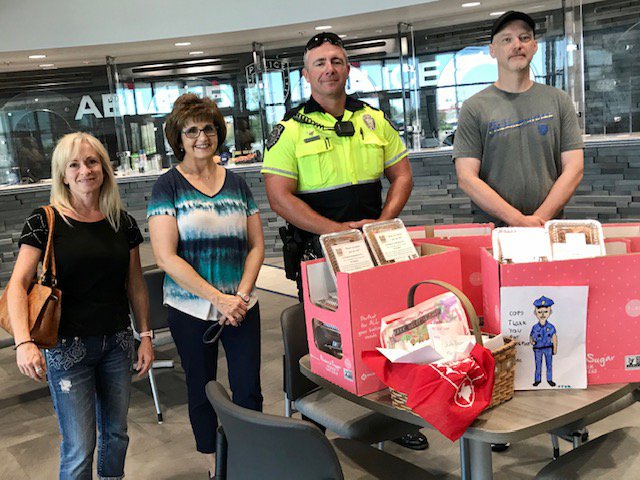 Wildcat Week
The Remington Ridge family annually reaches out to new students at Abilene Christian University through the school's Wildcat Week Block Party event. Members meet and greet new students while distributing bottles of cold water and prepackaged desserts.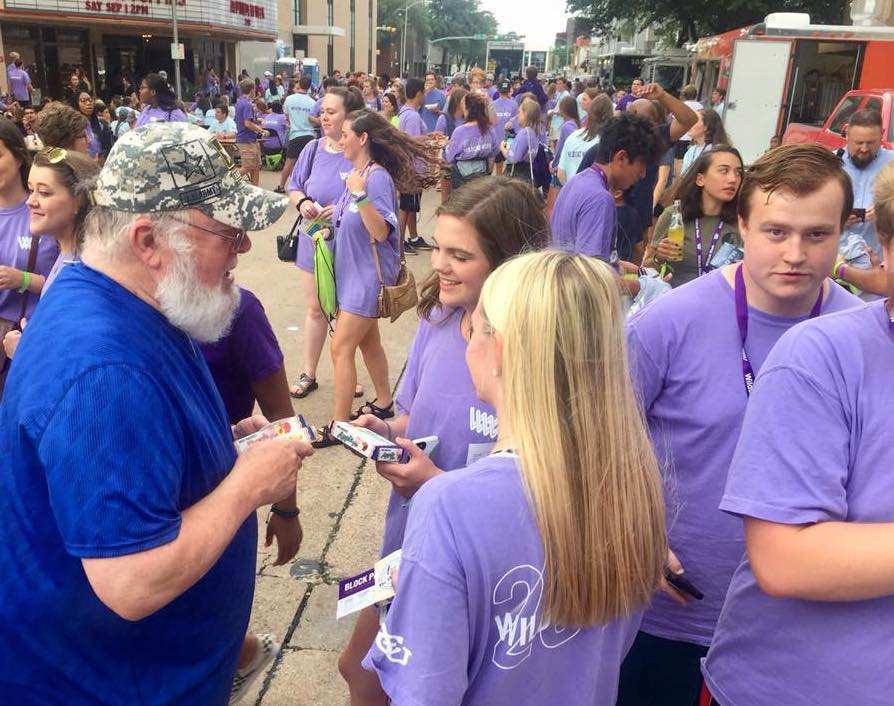 Huddles Ministry
Teams of members support Huddles and Huddles Jr. on Wednesday nights from 6 to 8 p.m. during the school year, feeding 40 to 50 young people and workers, teaching youth Bible classes, coordinating and leading group activities and visiting with parents, all in an effort to infuse God in the lives of families from throughout our community. Huddles are for high school students (grades 9-12) and junior high (grades 6-8). Huddles Jr. are for kinder-3rd grade and 4th-5th grade.
Social Media
Great Bible Challenge
Ridge members created a Facebook group called The Great Bible Challenge in April 2020 to help people intentionally read and study the Bible, specifically in a 64-day format that covers the entire Bible. Participants watch one short video daily produced by The Bible Project. More study challenges continue to be created on the Facebook page The Great Bible Challenge.
Facebook groups
Along with The Great Bible Challenge, Remington Ridge members are active in and serve as admins for a number of public and private Facebook groups, including:
Remington Ridge Member's Group
Remington Ridge Women's Ministry
The Ridge Men's Accountability Group
The Ridge Teens
Remington Ridge Children's Ministry
The Ridge College and Young Professionals
Bible Journaling
Instagram
Ridge Teens actively communicate and encourage each other through Instagram.
Specialty Ministries
Remington Ridge members engage in a variety of ministries allowing members to use their gifts and talents in ways to benefit the church. Such ministries include:
preparing communion elements weekly including baking communion bread;
our Comfort Food Ministry where members provide food for families in need;
members of the Bloomers Ministry help with landscaping efforts on the church property;
teaching Bible classes for all ages;
meal coordinators for bi-monthly Fellowship Sunday potlucks and weekly youth Huddles;
the coffee and donut ministry where members prep for a fellowship time prior to Sunday morning worship;
organizing, writing and designing a weekly bulletin;
organizing weekly worship opportunities;
teaching one-on-one Bible studies;
helping with youth activities;
providing audio/visual support, Web and social media content management;
and more!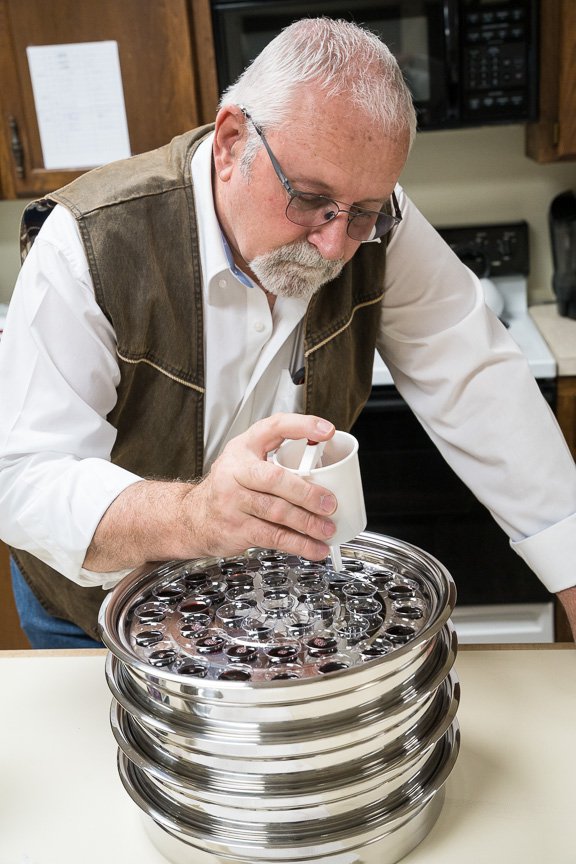 Family Fellowship Sundays
Remington Ridge recognizes that the best fellowship takes place while sharing a meal. With that in mind, we have a bi-monthly potluck lunch and fellowship every other month on the third Sunday.